A Word from Dan Griffin, JetWing Inventor
I have been boating since I was twelve years old and I love to fish, either freshwater or saltwater. Being raised in the south meant that I was surrounded by fantastic waters which was a big part of my upbringing right up until I joined the Army. Then in 1978 I met my wife Dolly and we both served in the United States Army. When I was discharged in 1987 we moved to Bloomsburg, PA on the Susquehanna River and we discovered that it was a great place to boat and fish! I owned two jet drive boats and with each one the wheels started turning on how I could improve control of the boat. It was something I lost a lot of sleep over and while lying in bed one night around 4:30 am thinking about my next trip out on the river the idea had finally come to me. I KNEW the design and where to make the mount. I had been playing with another design but this one made so much more sense. I got up right then and there and went to work. I made it with materials I had put on my boat and took it out for a test run and it worked well the first time out. I continued to test the product and got consistent results, I HAD it! I know you will have the same success that I have had. I am sure you will agree with so many happy customers that tell me time and time again that the JetWing has changed their steering control and made operation of their boats easier and more productive. Time is no longer wasted trying to maneuver your boat leaving more time for the important things-like more fishing! Happily, I can also report that boat rescue teams are also reporting how impressed they are while using the JetWing.
I am now pleased to announce the next chapter in the JetWing story. I have decided to sell JetWing and work as a sales rep while helping the new owner, Brian Eisenhauer grow this business to allow more people to enjoy the improved handling of their boats. I have every confidence in the vision and drive he has for this company that I am so passionate about, and I am looking forward to being part of the future of JetWing.
Happy boating and be safe.
Dan Griffin - JetWing Inventor
Lance Dunham - Susquehanna Fishing Guide, Outdoor Writer & JetWing Pro Staffer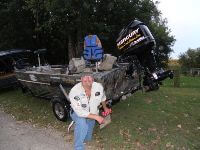 We not only have very low water now which has made for some tricky river navigating but we also have had some cool nights which has knocked down most of the algae bloom making the river clear. Now when you're going 40mph in four inches of water you don't always like to look down and see clearly the river rocks that could just ruin your whole day in a split second!
And on the other end of the speed spectrum when you need to go very slow such as driving your jet boat on the trailer in a very low and tight water situation you want all the boat control you can get. Anything you can do to accomplish better boat control you will do when you need to be on the river every day.
So, this is what I told Alan Coy of Snake Creek Marine when I stopped in for a chat last month. He brought out to me this new product called a JetWing. It goes on the lower unit of your outboard jet motor with the existing bolts that are already there. It was made out of a heavy plastic and had a price tag of around a hundred bucks. "I don't know Alan, I think my 115HP Mercury Optimax motor will snap that plastic on a sharp corner turn". Alan told me that it has a good warranty and maybe this is what I've been asking for. "Put it on, I'll take it" I said with some concern in my voice. Alan had never steered me wrong before and this new JetWing product claimed to do what I was looking for so I was anxious to try it out.
The next day I was out on the river and I could notice the difference it made in my ability to slowly steer the boat on the trailer. On high speed turns I could turn sharper corners and even though the manufacture doesn't claim it, I could swear that it got me up on plane quicker. I was the happiest boater on the river and then it happened. When I checked it out at the end of the day it was cracked on the port (left) side. I was really disappointed and took it off the motor. I knew I didn't hit a rock or anything like that so it had to be the stress the motor put on it when I took that extreme 40mph turn testing it out. Now who in their right mind would take a corner at 40mph in a boat! Yep, that would be me on a test run seeing how far the boat would skid sideways and folks, please don't try that on your home waters, after all these years I knew that there wasn't a shallow rock in the area I was in and the river was dead calm with no waves so there was no risk in flipping the boat.
As soon as I got back home, I contacted Dan Griffin, the inventor of the JetWing who lives down around Bloomsburg Pa. I was expecting the usual "we don't warrant the use of our product on a commercial basis'. This is what manufacturers always seem to say to guides because they know we are on the water more hours in one week than the weekend boater is all season and the risk of breaking their product is magnified ten times over. Instead I was greeted with a polite southern mans voice that asked if he could help me. I told Dan my name and what I do for a living and instead of the usual run around about commercial use, he even offered to come up to New Albany and install another one! I thanked him and told him that wouldn't be necessary and instead sent him the broken JetWing. He called me as soon as he got it and put a new one in the mail the next day. He couldn't find where I hit anything either and until now didn't know about the test run. It took me about ten minutes to install the unit and for the last three weeks it has been working great everyday under normal guide wear and tear which is more than most boats go through. And I promise folks, no more 40mph turns, you're safe with me.
Jack Ridings - NightVentures Bowfishing Charters - Lancaster, PA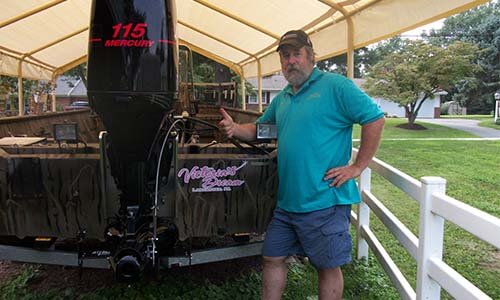 "My name is Jack Ridings from Lancaster,Pa. Owner of NightVentures Bowfishing Charters. Never heard of JetWing before until Brian of Timbertall Outfitters called and hooked me up with Dan of JetWing. He came down personally to measure and install a unit, since I have a Rock Proof Intake special cuts had to be made. Took it out on the Susquehanna River to see what it does, well, let me tell ya slow speeds it's full control turning just like a prop unit, not mushy. High speed turns it cuts the water real smooth, like a prop unit.
One night out Bowfishing with clients a cold front came in and it got real windy, white caps on the river and cut the trip short, came time to load the boat, got the trailer in and proceeded to load the boat with the wind blowing and a nice current almost had to load sideways got lined up and cut the boat to the left going on the trailer, first try she went on real smooth. Clients said "He must have done this before!".
JetWing makes a Jet motor more controllable. Awsome idea! Jet owners you need this unit! Good job Dan.